Have a chat with Sierra Kincade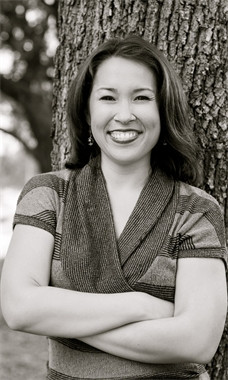 Your heroine is a masseuse, and we have definitely been converted to the power of massage! What gave you the idea for Anna's occupation?
Oh, I'm so glad! I love massages. They're the best. I chose to give Anna that occupation for a couple reasons. First, the hotness factor. I mean, naked (or practically naked) bodies, hands rubbing oil-slicked skin… There's a lot of potential for naughtiness! But there's also a strong need for trust. As I learned in my research interviews, massage therapists often see people at their most vulnerable, all defences down, without even clothing to guard them. Anna is a sponge for vulnerability – Alec's strikes her right from the beginning. But though she can soothe and heal with her hands, she doesn't have to expose any of her own vulnerabilities, which suits her (at least until she meets Alec).
Who is your ultimate book boyfriend? (Is it Alec?!)
It so is. He's so sweet and protective. That, plus a damaged past he's trying to cover up, and his bossy side that comes to the surface when things heat up and … gah. I just adore him. THE MASSEUSE begins the Body Work trilogy, and I can't wait for readers to see how he grows and changes throughout his relationship with Anna. I also am seriously crushing right now on Ansel and Finn from the Wild Seasons series. Who needs just one book boyfriend when you can have three, right? Wait … Also Jamie from OUTLANDER. And Cam … always Cam … from this old book SEASWEPT by Nora Roberts. Sigh. And while we're on it, I'm totally Team Gale on THE HUNGER GAMES … but Finnick's a strong second place. I think the answer is everyone really just needs about a dozen solid book boyfriends at any given time.
THE MASSEUSE has a thrilling, pacy and suspenseful plot which had us on the edge of our seats! Would you say that you are a fan of romantic suspense?
I absolutely am. I love stories where the stakes are high and the characters have to really prove what they're worth. Plus, I love big, strong, protective heroes and sassy women who are strong enough to save them. Those, I think, are the characters that do well in pressured, life-or-death situations.
Have you always wanted to be a writer? What do you love most about your job?
I have written since I was young – stories about my cat and dog and hamster. I've always loved stories. I didn't set a firm goal of becoming published until I got to college, though, and it took a while to find my groove.
I LOVE writing. I love researching books. I love when a scene just works and you're like YES! FINALLY! But mostly, writing is transporting. I get to live in the worlds of my creation, surrounded by interesting (and sexy, and dangerous) characters, and that's exciting.
Do you have the most fun creating your heroes or your heroines?
Both. I fell so in love with Anna while writing THE MASSEUSE. She's sassy, she's normal. I wanted to hang out with her. So when she got swept up in this adventure, I wanted to go, too.
But writing Alec. Whoa. Hot. Even thinking about him still makes me giggle. So … there's that.
Do you have a favourite hero or heroine from your books or by any other author?
I just finished reading DIRTY, ROWDY THING by Christina Lauren, and honestly, I think I crushed just as hard on her (Harlow) as I did on him (Finn)! They were amazing! I had such a book hangover when I finished that one.
If you could take only three essentials with you to a desert island what would they be?
Caffeine, bug spray, and underwear. I recently watched this show called Naked and Afraid, where people literally spend 30 days in the wilderness COMPLETELY NAKED. Okay, maybe they're exhibitionists maybe, maybe it's the ultimate survival situation, but I could not get over these women who didn't even try to make panties. I'd be grabbing a leaf and strapping it on first thing. Ants? Bugs? Uh uh. No thanks.
What are your guilty pleasures?
Cupcakes and cable shows. Honestly. A night where I can kick back with some chocolate cake and watch Newsroom or Masters of Sex or Walking Dead is the best. I'm a slug, I know, but oh well. Join me. You'll see. There's nothing better.
THE MASSEUSE is out in paperback on 15th January!