Meet Rebecca Zanetti . . .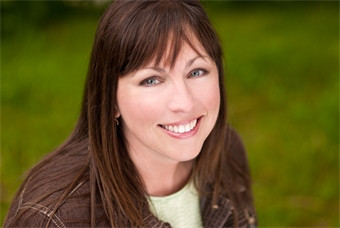 What inspired you to create your thrilling new Scorpius Syndrome series?
This is such a fun question, because a few different events inspired me. First, I belong to a local writer's group, and once a year, we have an all-member critique session. Well, I didn't really have anything to submit, so I sat down and wrote a quick scene (1,200 words) that ended up being the first scene in Mercury Striking, where Lynne Harmony is alone, walking down the deserted highway, and decides to remove her shirt to show roving guards her blue heart.
Right before I started writing, I had been watching Transformers: Dark of the Moon. There's a scene in the movie where the Decepticons blow up Chicago, and the hero drives through the demolished land into what looks like gang territory. I stared wondering: If the apocalypse occurred, what would happen if a gang survived? Would the members become the heroes or the villains of the new world? So former gang banger Jax Mercury was born at that point, and then I added his soldier background because he really needed it.
Finally, when it was time to contract a new series with my US publisher, I sent five story ideas/scenes to my editor, and she emailed me, saying, 'I want the Blue Heart story.' So the entire series unfolded from there.
Can you tell us a little more about the exciting, dangerous new world you've created and what's in store for your characters?
Absolutely! A bacterium that localizes in the brain has killed most of the world, and the survivors are changed, but in ways they haven't completely figured out yet. Some people are stronger and faster, while others have turned into sociopathic killers because their brains have been altered. Jax Mercury created a somewhat safe haven in East Los Angeles, and he and his people are just trying to survive right now. Soon they'll go on a quest to find the mysterious Bunker, which is hopefully an underground sanctuary created by the United States government. Of course, finding the Bunker could create more problems for the survivors.
Have you always wanted to be a writer? What do you love most about your job? 
I love being able to make things up for a living. It's a lot of fun to dig into personality types and figure out characters in a way that's both exciting and realistic.
Do you have the most fun creating your heroes or your heroines?
I think I have the most fun creating my heroes because they're usually so alpha and over the top. In order to be that way, their backstory has to be deep and complicated.
Do you have a favourite hero or heroine from your books or by any other author? 
I'm currently fascinated by Jax Mercury because he's such a mass of contradictions and yet is so comfortable in his own skin. As for other authors, I just love Roarke from J. D. Robb's In Death series.
Who are the authors you read for pleasure?
I read J. Kenner, Jill Shalvis, Dean Koontz, Sylvia Day, Cynthia Eden, Kristen Ashley, Lara Adrian, Larissa Ione, Cherise Sinclair, Lexi Blake, Joanna Wylde, Kyle Scott…and I could just keep going!
If you could take only three essentials with you to a desert island what would they be?
I would take comfy socks, my husband, and a laptop recharged by the sun.
Who would be on your dream dinner party guest list, dead or alive?
I'd love to hang out with Margaret Thatcher or Albert Einstein for a little while.
What are your guilty pleasures?
My guilty pleasures are chocolate, comfy socks, and paranormal television shows like Supernatural and The Vampire Diaries.
There's so much interest and excitement around romance fiction right now. What do you think that romance readers are looking for in the romances they read today?
I think romance readers want to be taken on an adventure for a few hours away from real life in a way that's exciting and somehow makes sense. These readers are smart, so the story, no matter how fantastic, has to work. The characters, even if they're drop dead sexy, have to be vulnerable and human, and the romance has to change them, even just a little, by the end of the book. A romance reader wants to be a part of that transformation and live in the book until duty calls her elsewhere.
Don't miss the start of Rebecca Zanetti's new thrilling series,
The Scorpius Syndrome,
 by picking up MERCURY STRIKING, out now!