TV and comfort food with Jo Davis…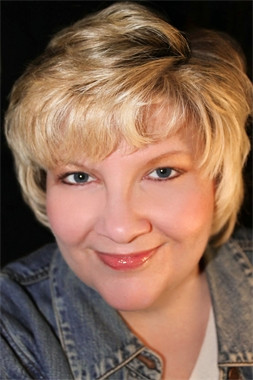 Quickfire Questions – Indulging the Senses
Your guilty pleasure? 
Martinis, especially cosmopolitans.
Your childhood crush?
I was wild about Mark Hamill as Luke Skywalker. I don't think I ever got over that, in fact!
The author who made you a reader?
Wilson Rawls, author of Where the Red Fern Grows. He's also the one who inspired me to be a writer.
The most attractive quality or feature in a hero?
His instinct to protect those he loves, no matter the personal cost.
The last book you read?
Redemption by Sloane Kennedy. Loved it.
The hottest accent?
There's nothing like a Scottish accent! Dreamy sigh…
Must love cats, or dogs?
Actually, I love both! I have a Boston terrier and two cats.
The best thing a reader has ever done?
Once, a reader brought me a framed collage she had made of my book titles and characters. I was so touched. I hung it on the wall in my office.
Your dream dinner party guests?
Jon Bon Jovi, Stephen King, and Dick Van Dyke. What a great party that would be!
Bad boys or clean-cut heroes?
Bad boys, for sure! They get my motor running…
Your current TV obsession?
Anything involving true-life paranormal encounters or ghost hunting.
Your ultimate comfort food?
Pizza with ham and tomatoes.
The last thing you saw at the cinema?
I took my mom to see Going in Style, with Morgan Freeman, Michael Caine, and Alan Arkin. It was really cute.
To dunk cookies or not?
Not. No soggy cookies for me!
If you could star in any role?
I'd love to be Wonder Woman. I'd just have to trade bodies first!
Your most-used cookbook?
I love the cookbook my mom put together for me that has all of her handwritten family recipes in it. It's well-loved and I use it all the time.
Tea or coffee?
Coffee with hazelnut creamer, please.
The show you wish had not been cancelled?
TAPS Ghost Hunters. I'm still sad.
Starter or dessert?
Starter…unless dessert is crème brûlée!
The reality TV show(s) you would go on?
I'd love to be on The Property Brothers. I wish someone would come in and give my house a complete makeover!
  RISKY BUSINESS, Jo Davis's thrilling novel of danger, intrigue and suspense, is out 27th June!
*RISKY BUSINESS was previously published as RAW, RISKY and REWARDED in the Torn Between Two Lovers series.