A warming sneak peek of My Kind Of Wonderful…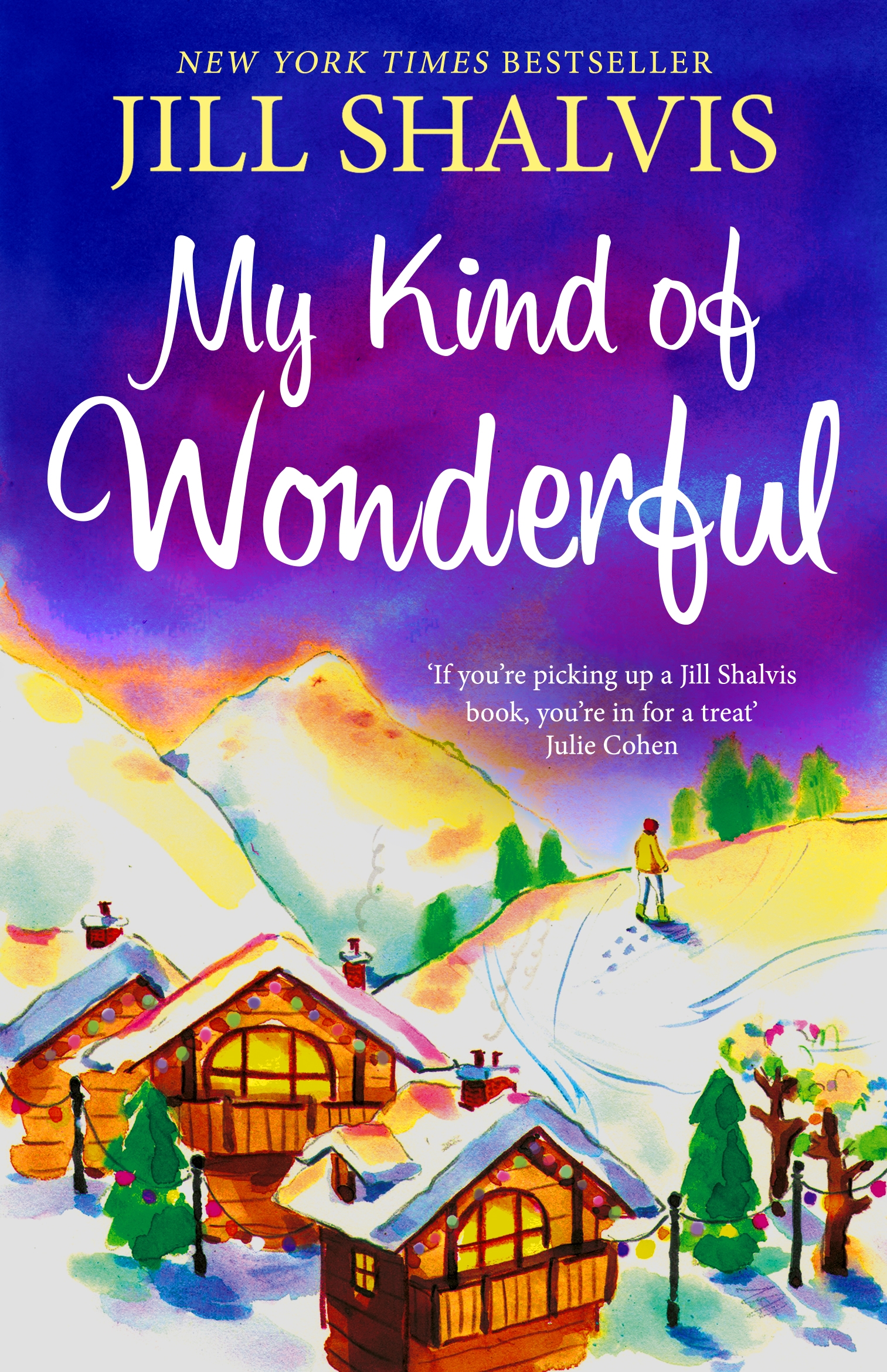 December Book of the Month
Chapter One
The wind whistled through the high Colorado Rocky Mountain peaks, stirring up a dusting of snow as light as the powdered sugar on the donut that Hudson Kincaid was stuffing into his face as he rode the ski lift.
Breakfast of champions, and in three minutes when he hit the top of Cedar Ridge, he'd have the adrenaline rush to go with it. As head of ski patrol, he'd already had his daily before‑the‑asscrack‑of‑dawn debriefing with his crew. They'd set up the fencing and ropes to keep skiers in the proper runs and safe. They'd checked all the sleds to make sure their equipment was in working order.
Now he had time for one quick run before they ran rescue drills for a few hours, and then he was on to a board meeting—aka fight with his siblings. One run, ten glorious minutes to himself, and he was going to make it Devil's Face, the most challenging on the mountain.
Go big or go home. That was the Kincaid way.
Just then the radio at his hip chirped news about a report of someone in trouble at the top of Devil's Face, and Hud shook his head.
So much for a few minutes to himself.
Ah, well, it was the life, his life, and he'd chosen it. At the top of the lift, he hit the snow at a fast clip. He'd seen a lot here on their mountain and even more on his monthly shifts as a cop in town. It was safe to say that not much surprised him anymore.
So when three minutes later he found a girl sitting just off center at the top of Devil's Face, her skis haphazardly stuck into the snow at her side, he didn't even blink.
Her down jacket was sunshine yellow, her helmet cherry red. She sat with her legs pulled up to her chest, her chin on her knees, wearing ski boots as neon green as neon green could get and staring contemplatively at the heart‑stopping view in front of her.
Hud stopped a few feet away so as to not startle her, but she didn't budge. He looked around to make sure this was the person of interest. Sharp, majestic snow‑covered peaks in a three‑hundred‑sixty‑degree vista. Pine-scented air so pure that at this altitude it hurt to breathe. There was no one else up here. They were on top of the world.
Not smart on her part. The weather had been particularly volatile lately. Right now it was clear as a bell and a crisp thirty degrees, but that could change in a blink. High winds were forecasted, as was another foot of snow by midnight. But even if a storm wasn't due to move in, no one should ski alone. And especially no one should ski alone on Devil's Face, a thirty‑ five‑hundred‑foot vertical run that required a great deal of skill and in return promised dizzying speeds. There was a low margin for error up here where one little mistake could mean a trip to the ER.
Even Hud didn't ski alone. He had staff all over this place—a few of them at the ski patrol outpost only a few hundred yards away, another group at the ski lift he'd just left, even more patrolling the resort boundaries—all of them connected to each other by constant radio contact.
"Hey," he called out. "You okay?"
Nothing.
Hud glided on his skis the last few feet between them and touched her shoulder. She jerked and craned her neck, at the same time pulling off her helmet and yanking out her earbuds. Tinny music burst out from them loud enough to make him wonder if she still had any hearing at all.
"Sorry," she said. "Did you say something?"
Not a girl but a woman, and without her helmet, Hud realized he'd actually seen her before. Earlier that morning she'd been in the parking lot, sitting on the back bumper of her car and pulling on her ski boots, all while singing along with the radio to the new Ed Sheeran song. He couldn't tell now behind her dark sunglasses, but he knew she had eyes the color of today's azure sky and that she shouldn't give up her day job to become a singer because she couldn't hold a tune. "I asked if you're okay," he said.
She removed her sunglasses and gave him a sassy look that said the question was ridiculous.
She'd worn a tight ski cap beneath her helmet, also cherry red, with no hair visible and enough layers of clothing that she was utterly shapeless. But that didn't matter. Her bright eyes sparkled with something that looked a whole lot like the best kind of trouble.
MY KIND OF WONDERFUL, the second funny and heartwarming novel in Jill Shalvis' Cedar Ridge series, is out 2nd December!
And SECOND CHANCE SUMMER, the gorgeous first book in the Cedar Ridge series, is out now!
Fans of Jill Mansell, Debbie Macomber, Nora Roberts and Marie Force will fall head over heels for the new Cedar Ridge series from New York Times bestselling author Jill Shalvis, featuring her trademark gift for humour, warmth and romance.

If you'd been given a second chance at life, what's the first thing you would do?

Now that artist Bailey is finally healthy for the first time in forever, she's living life to the full. First on her wishlist is skiing in the Rockies - at least it will be if she can get down the mountain in one piece...

Luckily, a ski patrolling Prince Charming comes to Bailey's aid. Learning that her mysterious rescuer, Hudson Kincaid, is also the subject of the mural she's been commissioned to paint in Cedar Ridge, Bailey is intrigued.

As she uncovers the real man behind Hudson's strong, silent facade, Bailey begins to realise that the life of adventure she has always dreamed of could be closer to home than she ever imagined.

Want more warm, funny romance? Don't miss the first Cedar Ridge novel, Second Chance Summer, visit spellbinding Lucky Harbor or experience some Animal Magnetism in Sunshine, Idaho in Jill's other unforgettable series.